Login
Log in if you have an account
Register
Having an account with us will allow you to check out faster in the future, store multiple addresses, view and track your orders in your account, and more.
Create an account
THE ULTIMATE EASY SCREEN PRINTING COURSE
Learn easy screen printing online!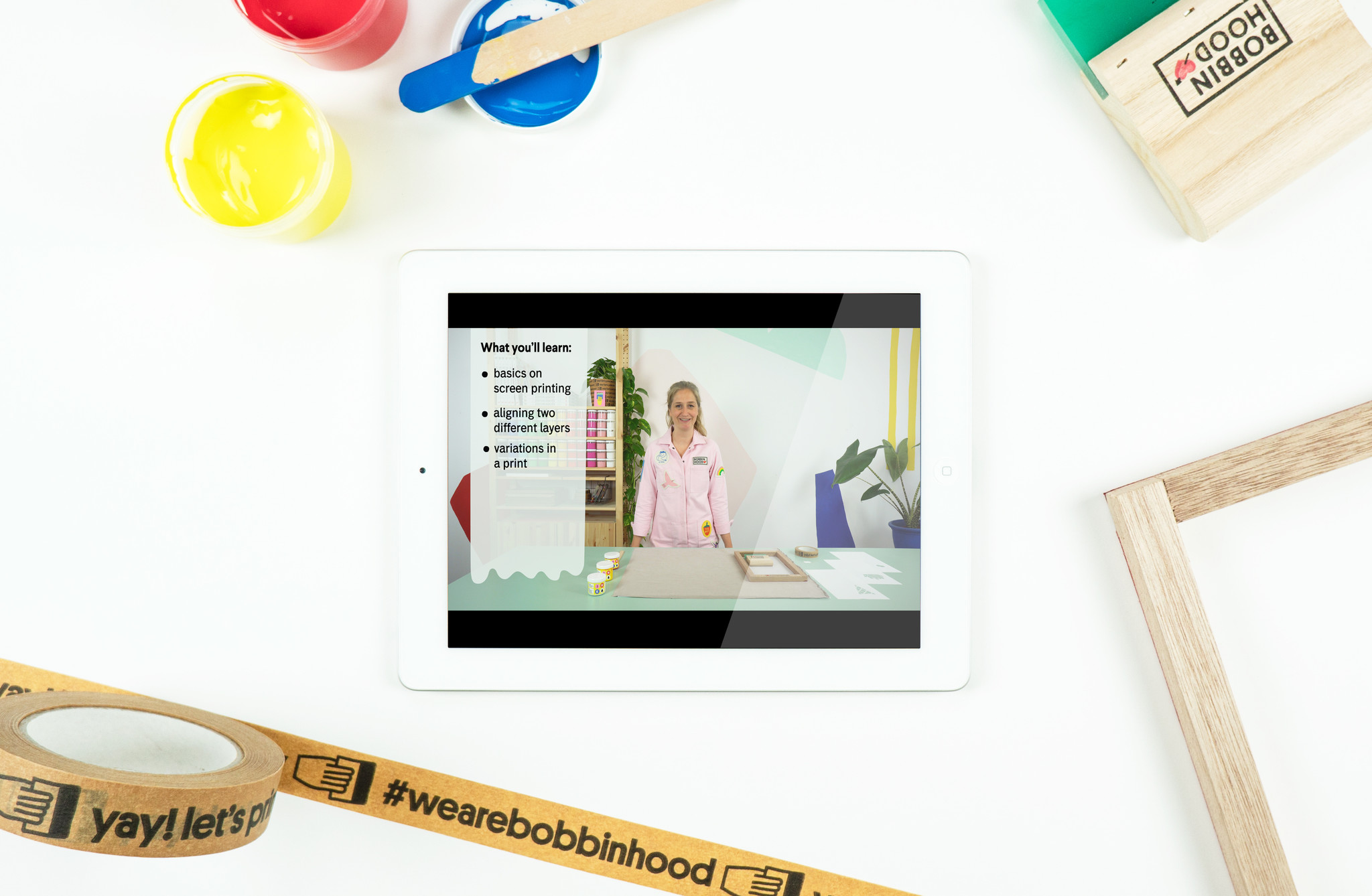 Bobbinhood proudly presents: THE ULTIMATE EASY SCREEN PRINTING COURSE, where Barbara teaches you everything to start your screen printing adventure! 
After teaching over 2000 people in the Netherlands and Belgium offline, we want to offer this same experience online, available wherever you are. In three extremely fun projects and eight videos we will teach you aaaaall you need to know. From cutting your stencils to printing, aligning multiple layers and more. Barbara herself teaches you all her tips&tricks, it's like getting a private workshop in your living room, studio or wherever you are!
When: you can start anytime! Purchase the course in the shop and we'll personally grant you access. 
The Ultimate Easy Screen Printing course is a self paced course. Every time you finish a lesson, a new one will unlock!  
Scroll on to read all about the course or read the FAQ's here!

READY TO LEARN MORE? 3, 2, 1..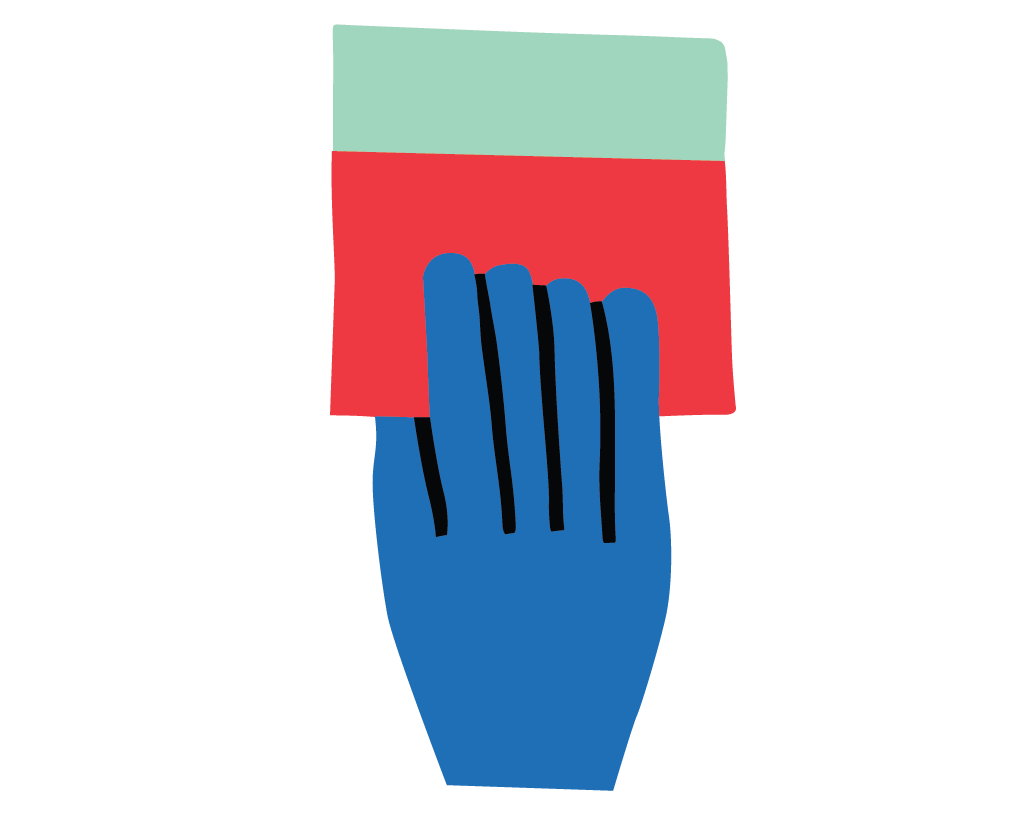 WHAT YOU'LL LEARN:
LESSON ONE: we'll start with preparing and cutting our stencils: learn how to cut straight and curved lines by hand, we will show our favorite tools and teach you how to transfer your design to your stencil. Everything to get you ready to print!

LESSON TWO: time to print! In this lesson you'll learn all the basics of easy screen printing. First we'll teach you the right techniques to get ultra sharp prints. You will be aligning your first two layers (!), you'll learn how to make variations within a print, and how to add a shape within a shape. Might sound like magic and it sure is! 

LESSON THREE: in this lesson is all about aligning multiple layers (we go all the way up to five!). We teach you all our tricks and give you all our tips: you will learn all about anchors, using a guide and we'll talk about the ultimate printing order.

LESSON FOUR: this lesson will broaden your screen printing skills. In three different projects you'll learn how to compose your print and play around with shapes and cutouts. We will show you how to make a random repeat, print multiple layers in one color, print outlines and show you how to print a tote bag. This lesson will tickle all your creativity!

EXTRA'S: in an elaborate video we'll take you to the full cleaning proces of your screen and tools. And we give the ultimate tip on setting your prints!
WHAT YOU'LL GET IN THIS ONLINE WORKSHOP:
In three different projects and eight videos we'll teach you the basics of easy screen printing. Through the course we'll take you through all the aspects of easy screen printing. Every lesson is designed is to teach you more and is designed to We've carefully selected every project to teach you all the techniques you need to know to become a confident easy screen printer.   to build your printing confidence. .. With every project you'll learn how to use your tools and we share all our tips and tricks. Every lesson is designed to teach you another technique, all the projects together teach you all. 
detailed step-by-step videos

pdf templates of all the projects + SVG files if you prefer using a cutting machine

mixing recipes to mix your colors

bonus movies for cutting your stencils, cleaning your screen and fixating your prints
After this course you will be a confident easy screen printer. Oh and most likely be jumping up and down ready to start your next screen printing project, it's addictive like that! Don't say we didn't warn you ;)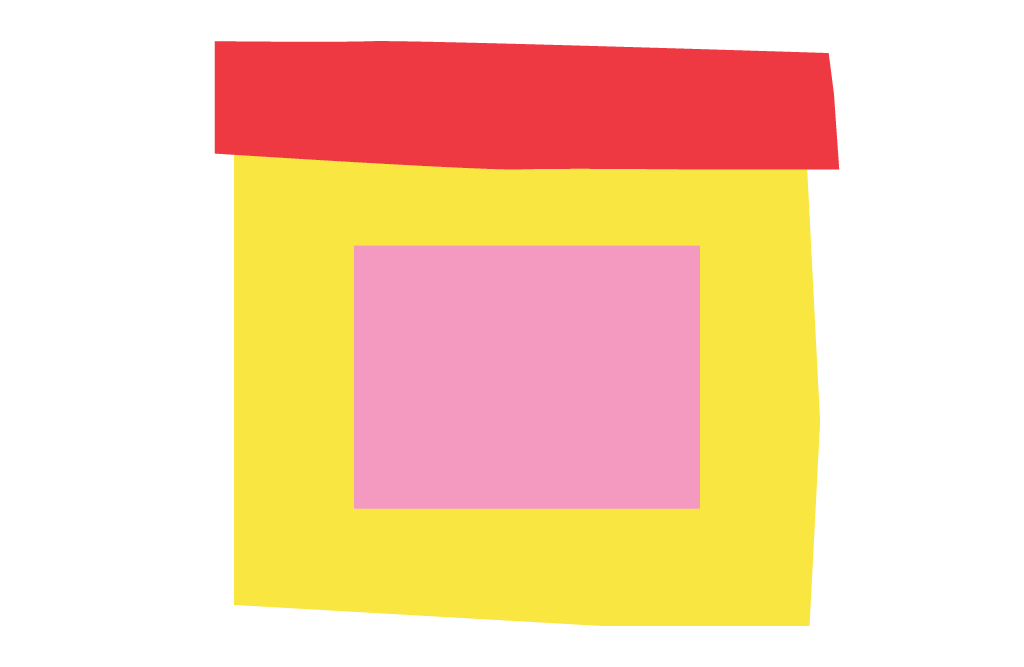 WHAT YOU'LL NEED?
You don't need any experience to follow this course. It is suitable for absolute beginners but can also be extremely helpful if you already have screen printing experience. To make sure you have everything you need you can add supplies to your order with a sweeeet discount! As an extra, we've also have the option of pre-cut stencils - if you prefer to skip the cutting. 
WE CAN'T WAIT TO SEE YOU THERE!

WHAT PARTICIPANTS SAY ABOUT THE COURSE:
"Bobbinhood's course is a great way to introduce yourself to this very accessible way of screen printing! And if you're already familiar it provides a perfect opportunity to get the valuable tips and tricks to up your game!"

"Bobbinhood is AMAZEBALLS!!! Everything they do is done with so much love, intention, and creativity!! I love supporting this small biz especially because they stick to their values while providing the highest quality materials that make screen printing easy and fun!"

What do you learn?
Lots! After this course you'll be a confident easy screen printer. You will learn all the tips and tricks from cutting your stencils to aligning a 5 layer print, printing outlines, making a random repeat and much, much more!
I have never screen printed before, is that a problem?
Not at all! In these video lessons we will guide you through the entire process, beginning to end.
I do have some screen printing experience but it has been a while, will it still be useful?
Yes! There will be a lot of tips and tricks that come in super useful when printing with our kit and stencils.
Who is the course for?
Want more crisp prints? More layers? More printing confidence? Then it's for you :) We created a course that's both interesting for starters and more experienced printers.
What if I don't have time to complete the course?
No worries! You can watch the lessons anytime and foreeeeever. 
How much time do I need for this course?
The total of all videos together is about one and a half hour. We recommend to spend between half an hour and one hour on each project to practise your skills. There are 3 projects in this course.
What does it cost?
The course is 79,- euros incl. 21% VAT. If you order from outside the EU, you don't pay VAT so the prices are 21% less as listed. However, if you buy access to the course + kit, inks & stencils or access to the course + inks & stencils, at customs your local taxes may apply.
What do I need for this course?
First of all your access! And let's talk tools, you'll need your screen (we'll be using our Maxi screen, but if you have a screen in a different size that works as well), a squeegee, paper tape, screen print ink (we prefer eco friendly and water based!), a cutting mat + knife, a bounce layer (layer of fleece the size of your fabric, an old fleece blanket works perfectly), an iron (to set your ink) and optional: a blow dryer.
What colors do I need?
You can print in any color you like! As long as your ink is suitable for screen printing and water based. We'll be using white, yellow, red, blue and black to mix the colors we need. We have added the mixing recipes of course!
There are different sizes of screens, which one do I need for the course?
We'll be using our Maxi screen, this is our 'normal sized' screen. It's 23x33cm/9x13" and prints approximately 16x26cm/6.2x10.1". Of course you can use a different size as well. Please note, both the stencils and the pre-cut stencils come in Maxi size :)
I signed up, but didn't get access yet.
You will receive an order confirmation right away. After that it can take up to 3 days to get access to the course because we manually make sure you have all the info to get started. (We are a slow shop and proud of it :)) As soon as we have granted you access you will receive an email, check your spam - it could end up there. If you haven't received any email after 3 days, please shoot us an email at [email protected] and we'll help you out!