Login
Log in if you have an account
Register
Having an account with us will allow you to check out faster in the future, store multiple addresses, view and track your orders in your account, and more.
Create an account
WORKFLOW CALENDAR FREE DOWNLOAD
26 Jun 2019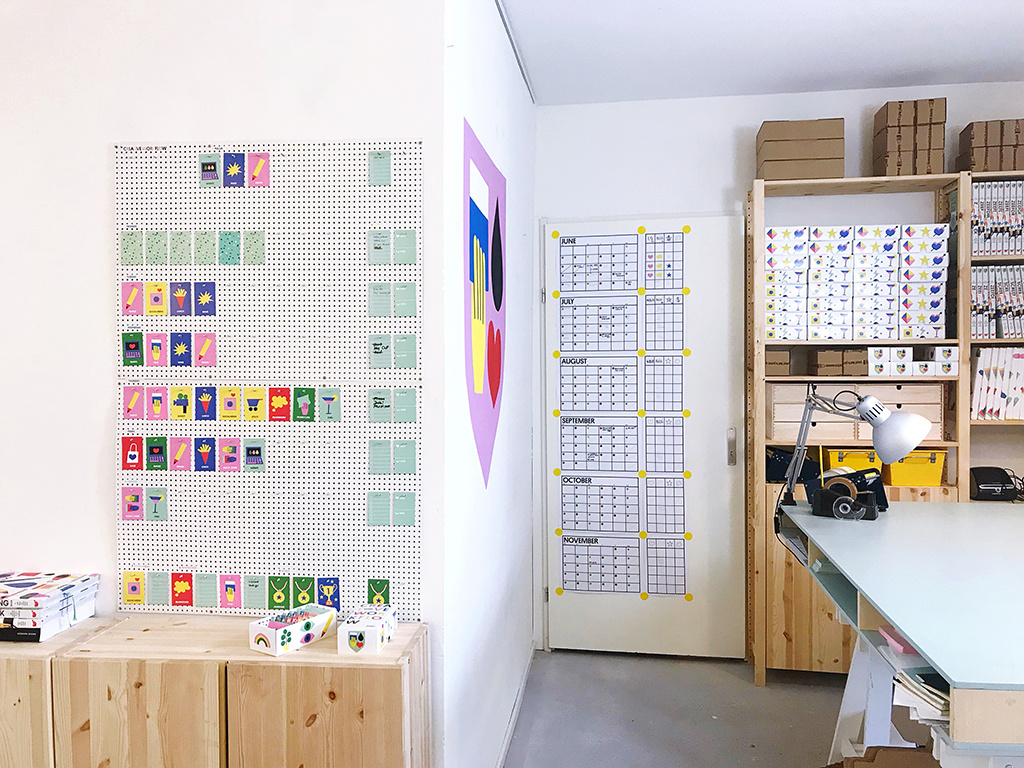 It is all about the rhythm isn't it? Oh how I looooove a good rhythm and then again it is so hard for me to maintain that rhythm! So I made a creative workflow calendar to help us with that and y'all loved it so on IG that I had to make it available as a free download.
Let me elaborate on my troubles maintaining that rhythm: as a creative entrepreneur I have many different tasks to keep my little company afloat, from making things, to making content, developing new products, answering emails, inspire, get inspired, finances, order packaging etc etc etc. Most of them I love, some of them not so much but that's ok, all together they make the best job I ever had :). My big challenge is to do things with regularity: to post regularly on IG, to keep up with my finances every week (instead it piles and piles up until my accountant starts bugging me), to keep our blog updated (I have a gazillion ideas for it!), to clean our HQ every week. I know how awesome and wohoooooo-ish I feel when I have that rhythm and yet is is my hardest struggle.
First big step to create this rhythm was when I started working with our creative workflow, ever since then I am having such an awesome time here at the HQ! I am so much more aware of all my tasks as a creative (entrepreneur) and instead of focussing on just one part at the time I have a great overview and appreciate this creative journey so much more. The big game changer here was to visualize all the tasks, this helped me change my mindset: it is not about finishing tasks, it's about giving attention to tasks and enjoying that journey. Anyways confetti is flying around all over here!
Back to that rhythm that I need so much and that doesn't come naturally for me and I have heard I am not the only one :). Ideas pop up in my head like crazy. So I need to create a track to stay on, so that I can still have all my crazy ideas and get empowered by them, instead of distracted. I realized that I need long-term focus points to create a foundation of regularity and zen-ness for my company. I am convinced that on this foundation the crazy ideas can flourish. And then it came to me: I need me a good sticker chart! Like the one we make for our girls when we try to motivate them for long lasting change (think potty training, helping to set the table, be nice to each other (ha!)). It helps them to see the focus and make a habit out of it in the long run AND to celebrate it. So I made a regular year calendar and added a sticker chart next to it.


So here is how it works. Next to every month is a stickerchart. Every month there are 4 big focus points to work on (obv you can use less).
You can use the grid to write down ideas for these focus points. And when you gave attention to them that week you get to sticker and keep track of all your long run focus points
Let's take June. We decided to focus on 3 main tasks:
- more rhythm on IG, although I am active on stories I seem to forget the actual grid sometimes and I believe this is where you 'meet' inspiring artist and potential clients.
- write more blogs, I have so many fun ideas for blogs and in the back of my mind I would love to bring out a magazine one day filled with tips&tricks, artists, pattern hacks and mooooore so it seems like a good idea to start with keeping our blog alive.
- finances.... although I don't mind cracking my head over the numbers it is the first task that gets shoved away when we are working on aaaallll the fun stuff. And it shouldn't. I want Bobbinhood to be a healthy business, not only to pay my rent, but also because I want to show my daughters some feisty girl bossing, because I want to share 'bringing home the bacon' with my big love and because I have employees now that have to be paid for their awesome work.... When your finances are not up to date, how big or small your company... the stress is huge. So this is a big focus point for us from now on until it feels like habit.
Everytime we gave attention to a focus task that week we sticker away!
Name any focus you want to, in time, turn into a habit. Very important: the creative workflow is about giving attention. For example: it is not about making a blogpost a week but working on your blog every week, see the difference here? Giving attention to something important rather then focussing on getting it of your list. Crazy thing is you 'll be finishing more then ever!
June is filling up nicely here!
The download has 11 pages: calendar for July-December, a focus chart for every month and 2 pages of stickers.
There are two charts on one page, so cut these in half. Also cut the 'stickers'. We keep them in little jars and use a tape roller to stick them to our charts!
Hope this makes you as happy as it make us! A good rhythm just makes you wanna dance, right?!
We'd love to see and get inspired by your setup, focus and flow! Send us an email ([email protected]) or show us on IG use #wearebobbinhood!