Login
Log in if you have an account
Register
Having an account with us will allow you to check out faster in the future, store multiple addresses, view and track your orders in your account, and more.
Create an account
JANUARY: THE MONTH WE MOVED
05 Feb 2021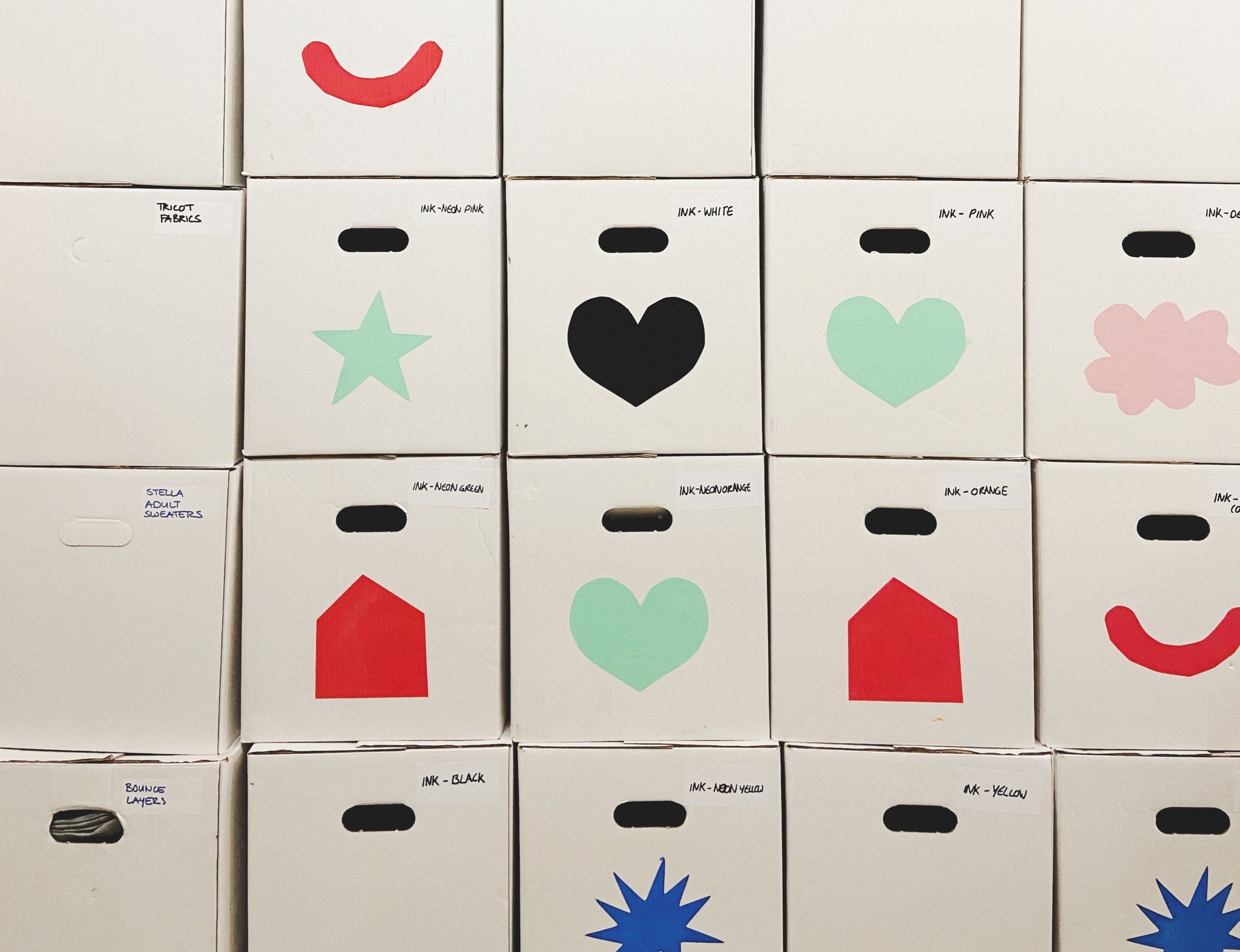 Making a big move 
January was quite the active month, a big dream came true: we moooved! Let me tell you aaaaaall about it.

We have been casually looking for a new place for a little over a year now and just before the Christmas break we found our dream studio! Just around the corner, a huge place with a lot of light and space for all our ambitions. I wanted to stay in the same neighborhood where we had our studio because it is so close to my home (800 meters to be exact!) and my girls school. In my always-running-around-life, I like my radius to be small during the week (and still I manage to always be late everywhere!).

This opportunity came at a perfect timing: we were really bursting out of our studio, every time we had to make pictures or shoot a video, we had to rebuild everything, making every new theme super time consuming. And it was also too small for us to work there all together during this crazy pandemic.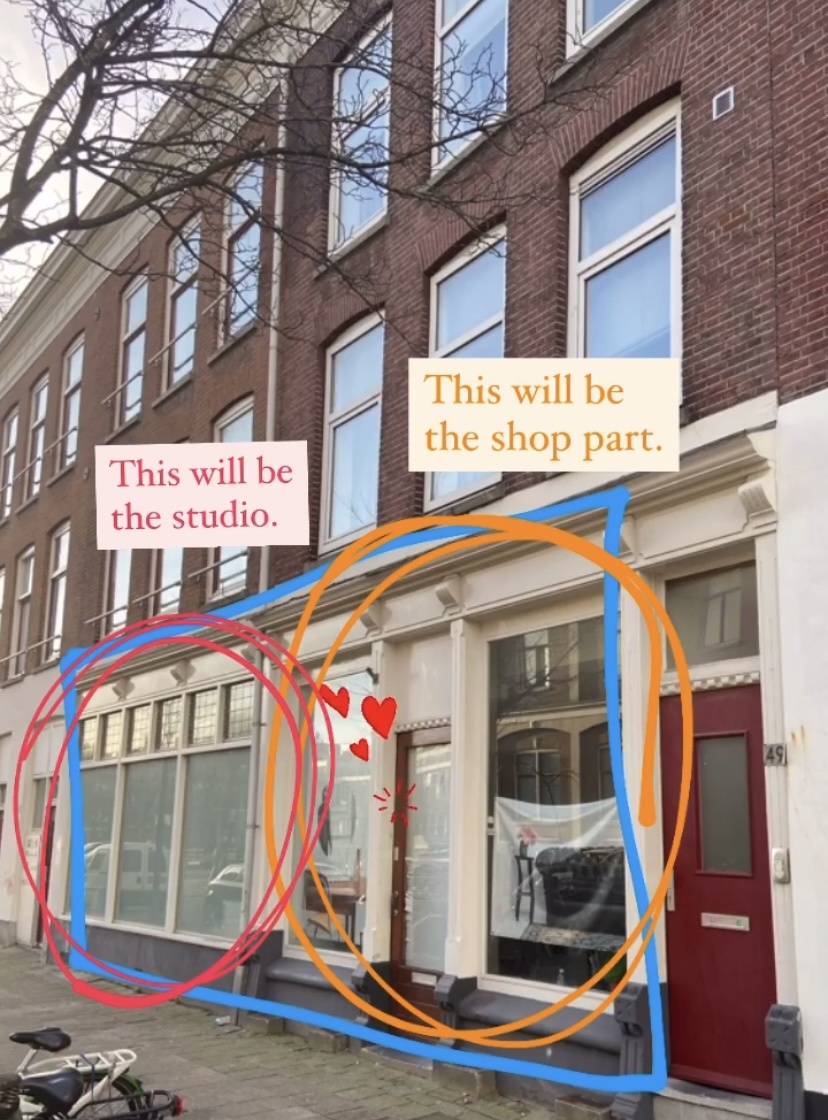 When we saw the listing, it was one week before Christmas. I had a lease on our studio for another 2 years so I had to find a new tenant to take over the contract (one they would approve) aaaand they had to approve me as a tenant for the new place. We had to crack the numbers to see if we could afford it, make an estimate on how much the move would cost and plan everything in a week's time. We wanted to make the overlap of the two studios a short as possible so we wouldn't have to pay double rent for too long. The first week of January we heard all was ok for us to rent the new place and we found a new tenant for our place. Our move date would be 22nd of January, giving us a week to make the move! WoooW!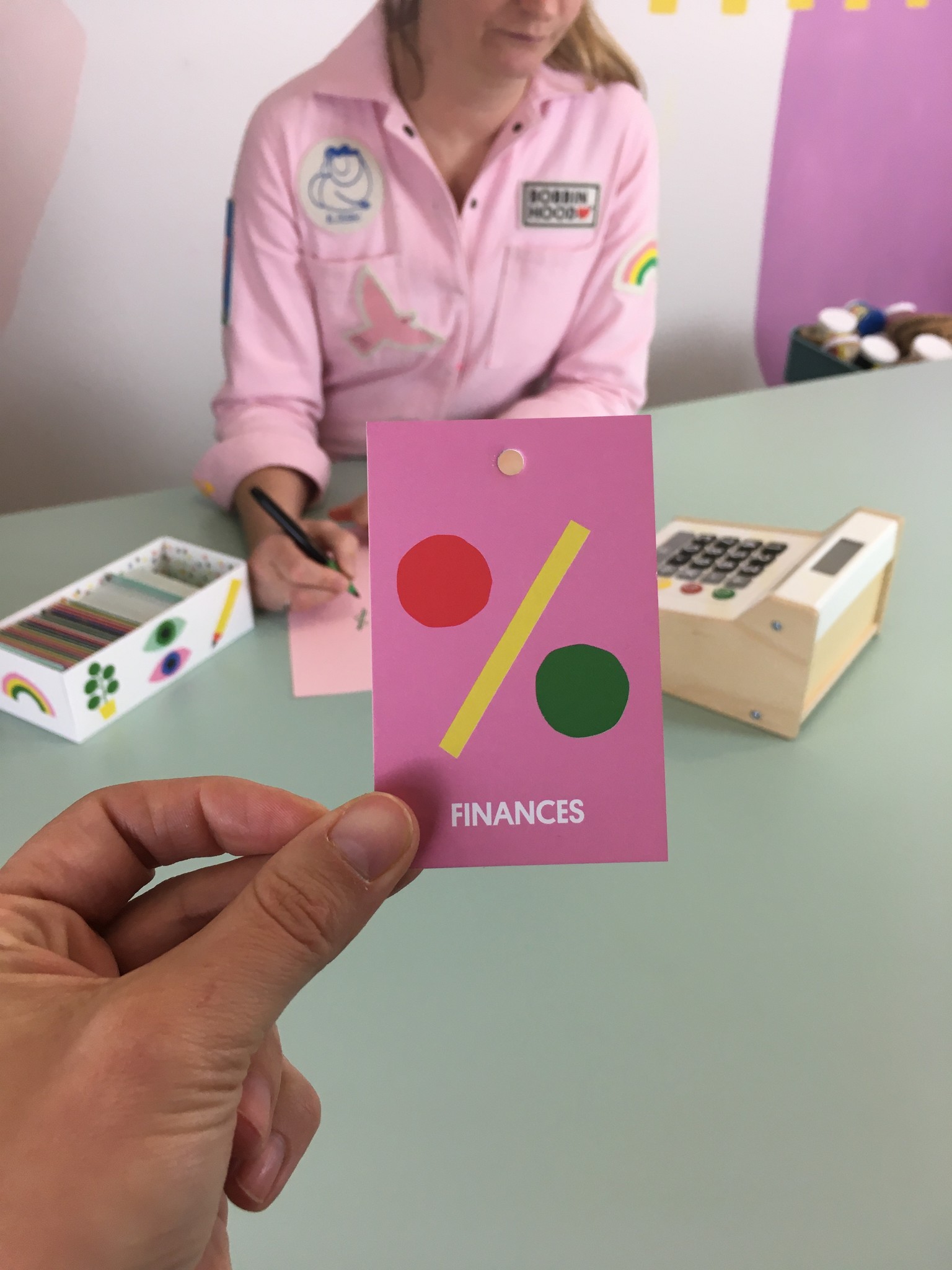 Just when we figured out our schedule we went in another lockdown and the schools closed. I work fulltime for Bobbinhood, my husband works 4 days a week so we decided to split the days (I would work mornings from 6am-1pm and my hubs the afternoons from 1pm-6pm). We made a tight but doable schedule. I have moved a lot in my life but I have to say this one was the smoothest one so far, thanks to my accomplices Marieke, Makala and Elke. Oh and thank god for the creative workflow! That one kept us pretty sane. Also my hubs and girls cheering me on helped heaps of course.

So we decided to go for a quick move and then to take the time to get settled in. We have a lot of plans but decided to focus on the necessary things first: cleaning everything, painting the floor white and an efficient and spacy storage + shipping station (ooh how we longed for that!). Also we really wanted a separate photo studio and lots of space to create (and for me to skateboard haha). Here is the floor plan.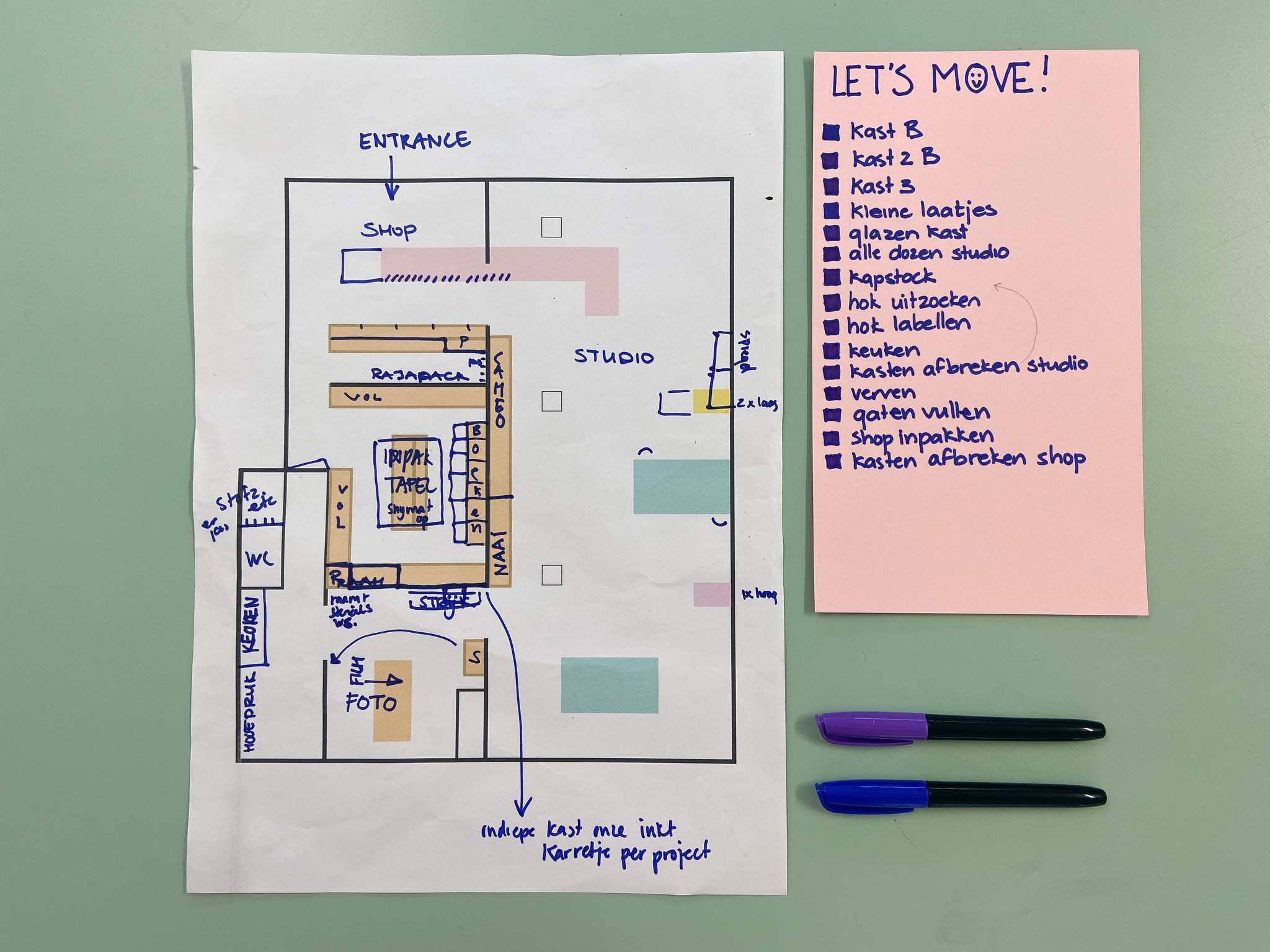 Let me show you around! You come in at the shop, behind this is the storage that is also connected to the photo studio. We made an extra entrance to the storage area right behind the shop so we didn't have to walk through the kitchen and photo studio with our stock. The photo studio is (just like our shop) connected to the big studio.

As I write this we just have our shop up and running and our storage is all good. Next up is our studio, but first we want to start working there to see what it really needs. We have some ideas and plans for the next year, we will definitely share our inspiration and projects with you! Here is a before and after of our storage... expect many more before and afters coming to a computer near you this year!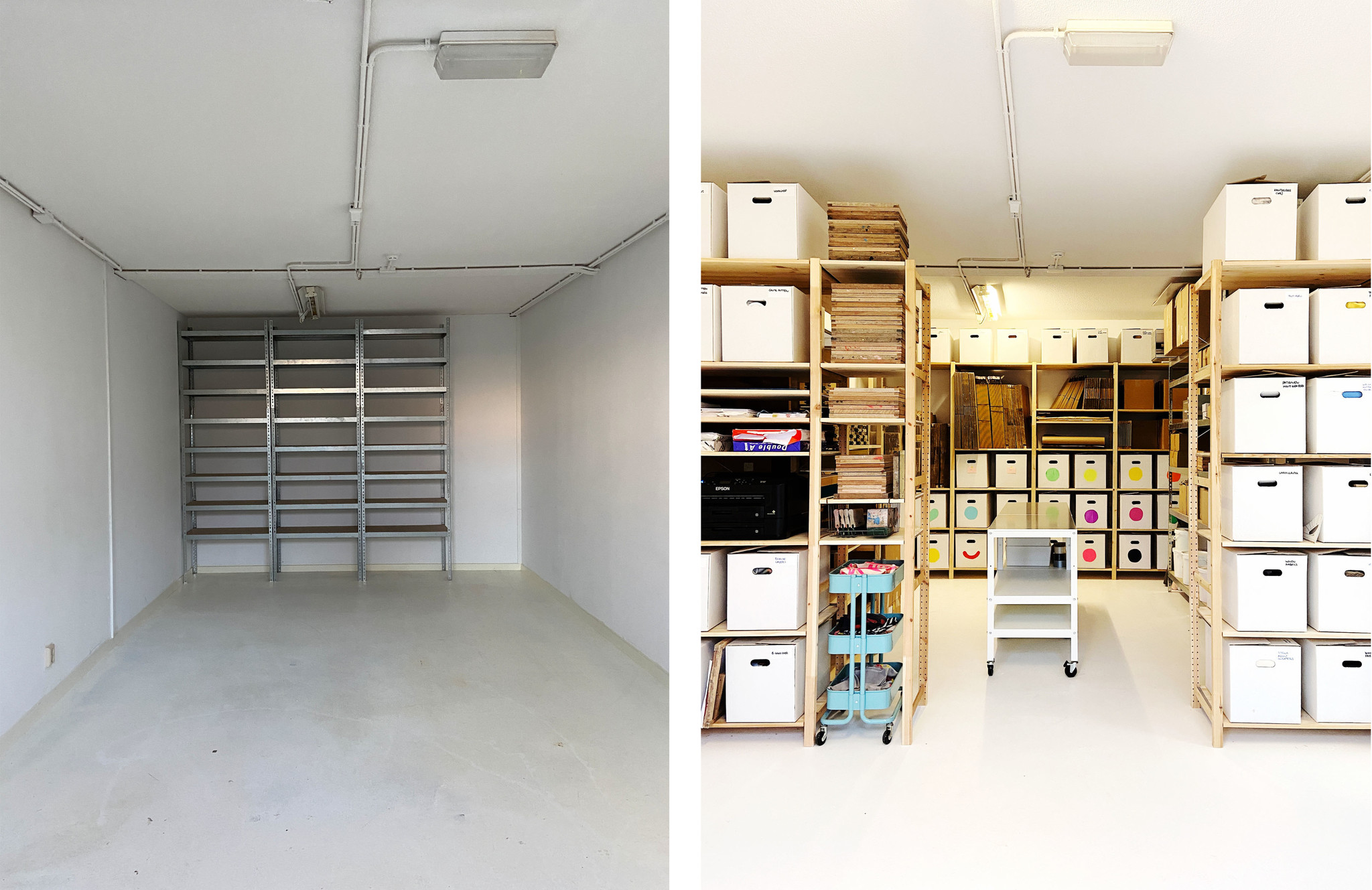 After the summer we want to open the shop, we'll take our time to make that an awesome stop for y'all! Of course until then you can always pick up your order in our brand new studio (just select pick up when you order!).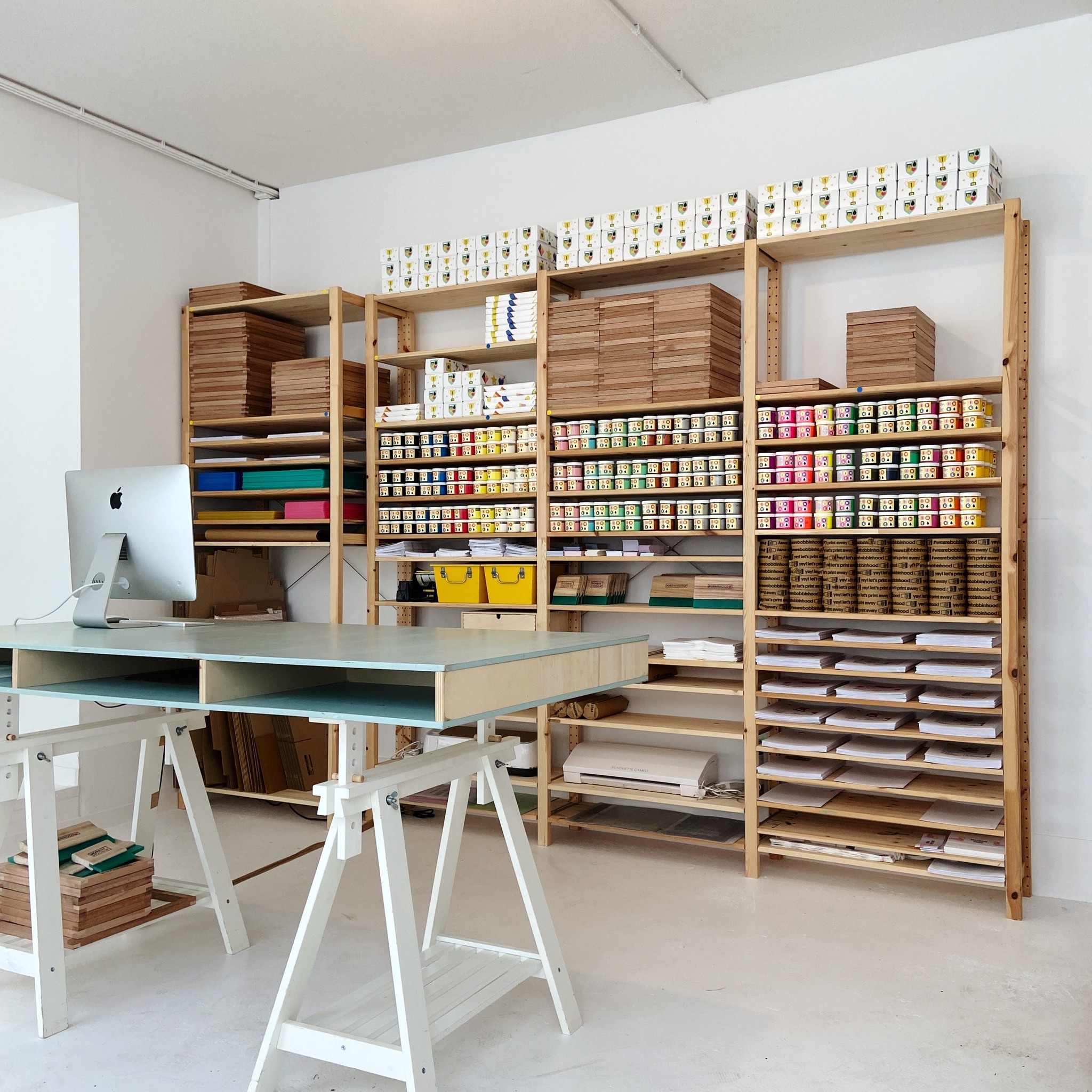 The online ultimate screen printing course
Also in January, amidst all our moving boxes, we ran our second edition of our online course with a new super fun group. Our course is an online self paced course and can be followed from all over the world. For a period of 3 weeks participants can ask all the questions that we answer in live feed. We are having so much fun teaching them all the tricks and are already planning a new edition coming this spring!

Always celebrate with confetti
As you might have noticed in our Instagram stories we made a bunch of short movies to explain all the cards of our work system; the creative workflow. And of course we threw a LOT of confetti around. I am pretty sure the tenants of our studio will find confetti for the next years to come! Everyday we explained a new card and we saved them all in a highlight if you missed (some of) them!




Blooper of the month
Sometimes pictures say more than words.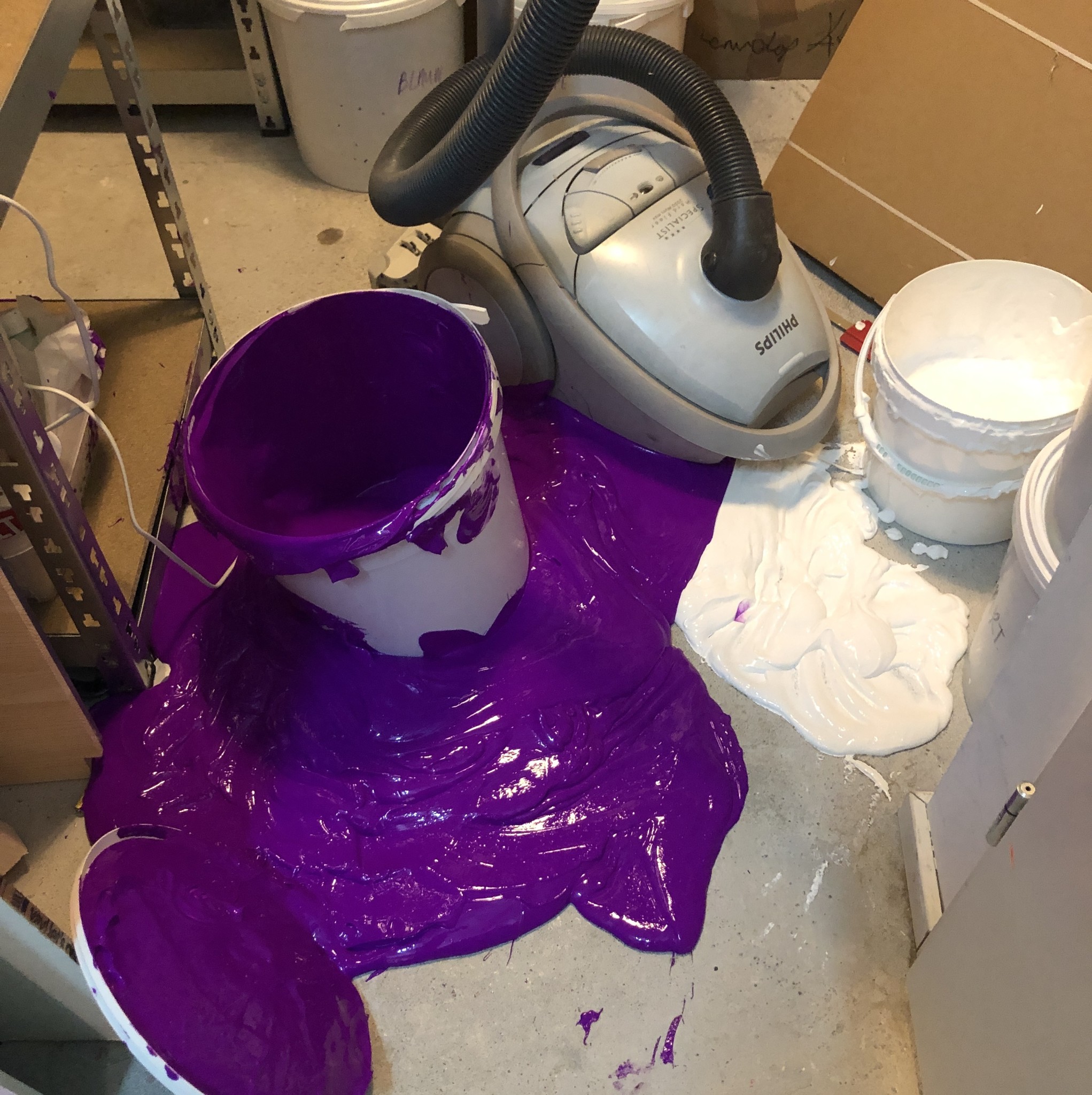 Also Marieke lost her ring and we think it might be in the white ink, so if anyone finds a ring in a white ink pot please let us know (no joke! :| ).

What we are working on
In February we will slowly settle into our new place. Also we are working on a really cool new project (top secret for now but I can already tell you it is in collaboration with really cool artists!!!!!!), we have some new pre-cut stencils coming to our shop (the leopard by Celina Bailey, the Banana on bike by Sowiesowies, the doodles by Lynn Cosyn aaaand the zebra by yours truly! Wohooo!). As a company we are also working on our (and a doable) planning for all our fun ideas and content. Planning is not my strong point and that doesn't make our Bobbinhood life easier so we are working on that toooooo!